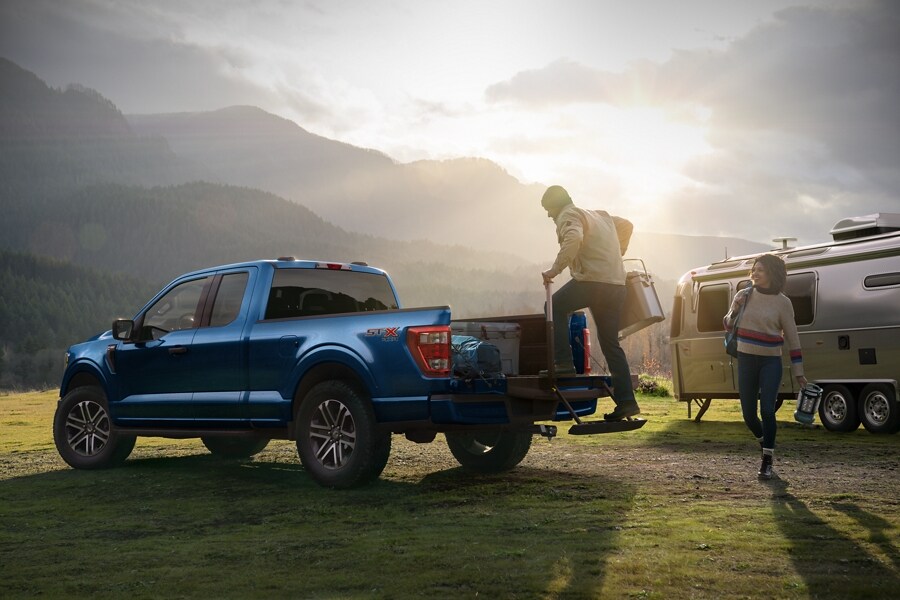 GET THE TRUCK YOU'VE ALWAYS WANTED
We mold, strengthen and adapt ourselves to fit our lifestyle. The truck you own should do the same. Create the F-150® to fit your needs for work, play-or both.
EVERY DETAIL MATTERS
It's not just one thing that makes a great truck, it's a combination of features that make your truck great. From powerful engines to smart technology, there's an F-150® pickup to fit all aspects of your life.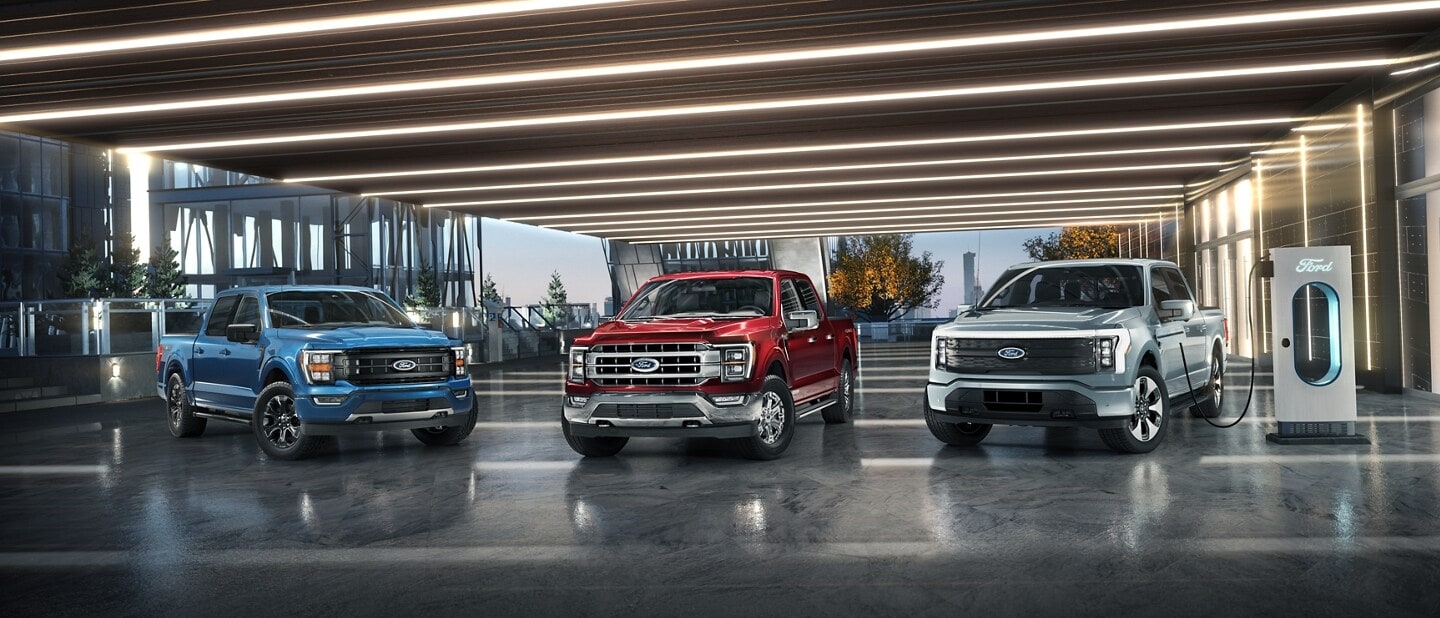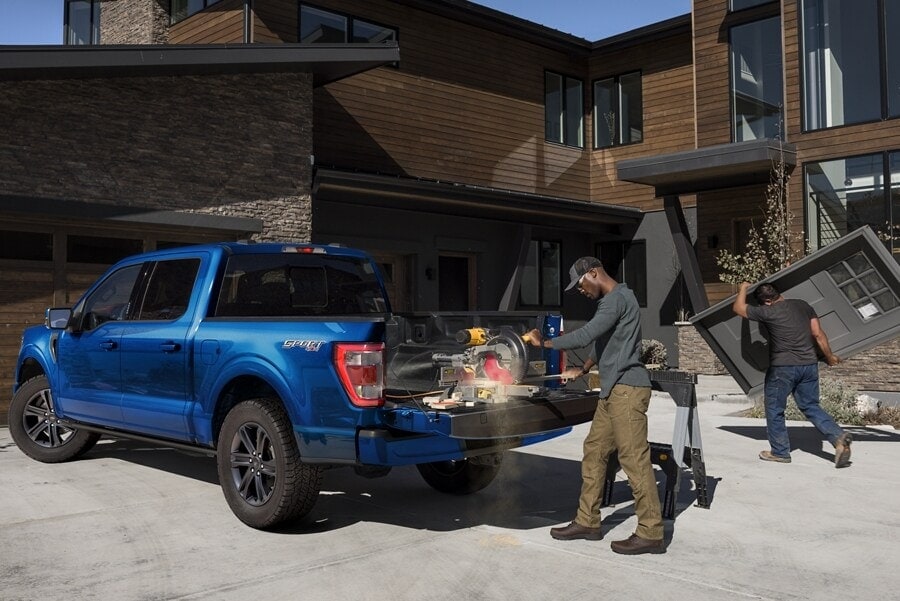 NO WORK BENCH. NO OUTLET. NO PROBLEM.
The traditional workplace is passe. Ford F-150® puts productivity at our forefront with the convenient tailgate work surface, available built-in electrical power and 14,000 lb. tow rating and 3,310 lb. payload capability.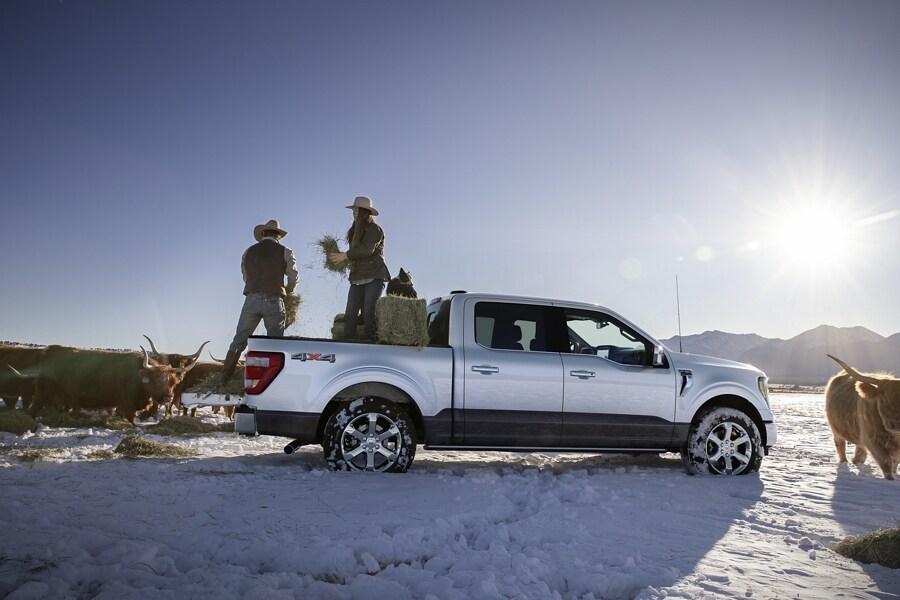 FORD F-150® POWERBOOST™ HYBRID
The 2023 F-150 PowerBoost™ Hybrid is altering the hybrid landscape with powerful, efficient performance matched with its legendary capability.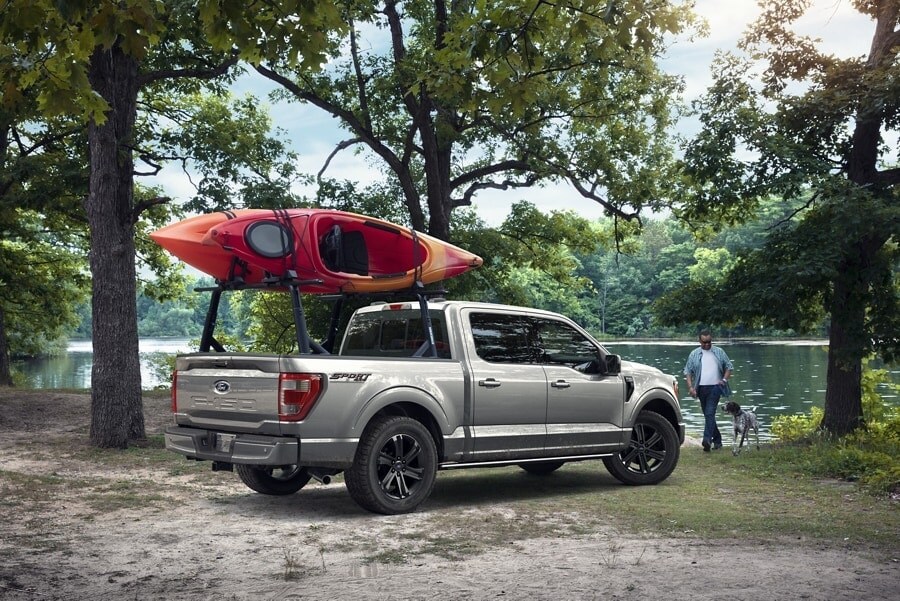 NEXT TIME SOMEONE TELLS YOU TO GET LOST... THANK THEM.
When it's just you - and a best friend - far away from cellular towers, you'll appreciate the time to relish in quiet solitude. Your F-150® is just the means to get you there.
Available Ford Accessories.
FREEDOM OF CHOICE
When it comes to performance, durability and capability, the 2023 Ford F-150® pickup checks all the boxes. Whichever model you choose, there's a treasure trove of standard and available features, so your ideal pickup can be equipped to be - and do whatever you want.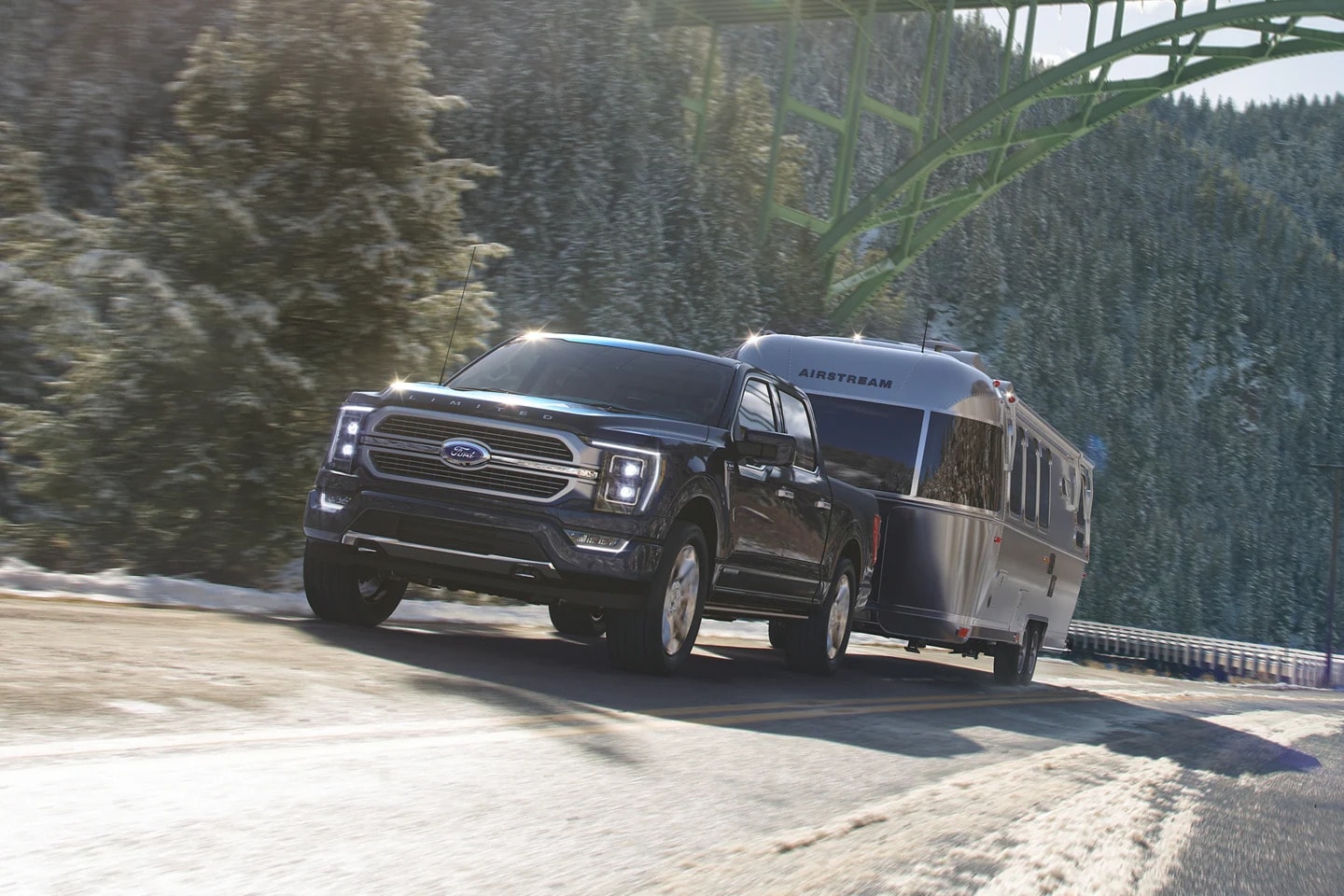 FROM HYBRID TO HORSEPOWER THERE'S A POWERPLANT FOR YOU
From a mileage friendly Hybrid to a pin you to your seat 450 horsepower V6 engine on up to the 5.0L Ti-VCT V8 workhorse, Ford F-150® delivers the power.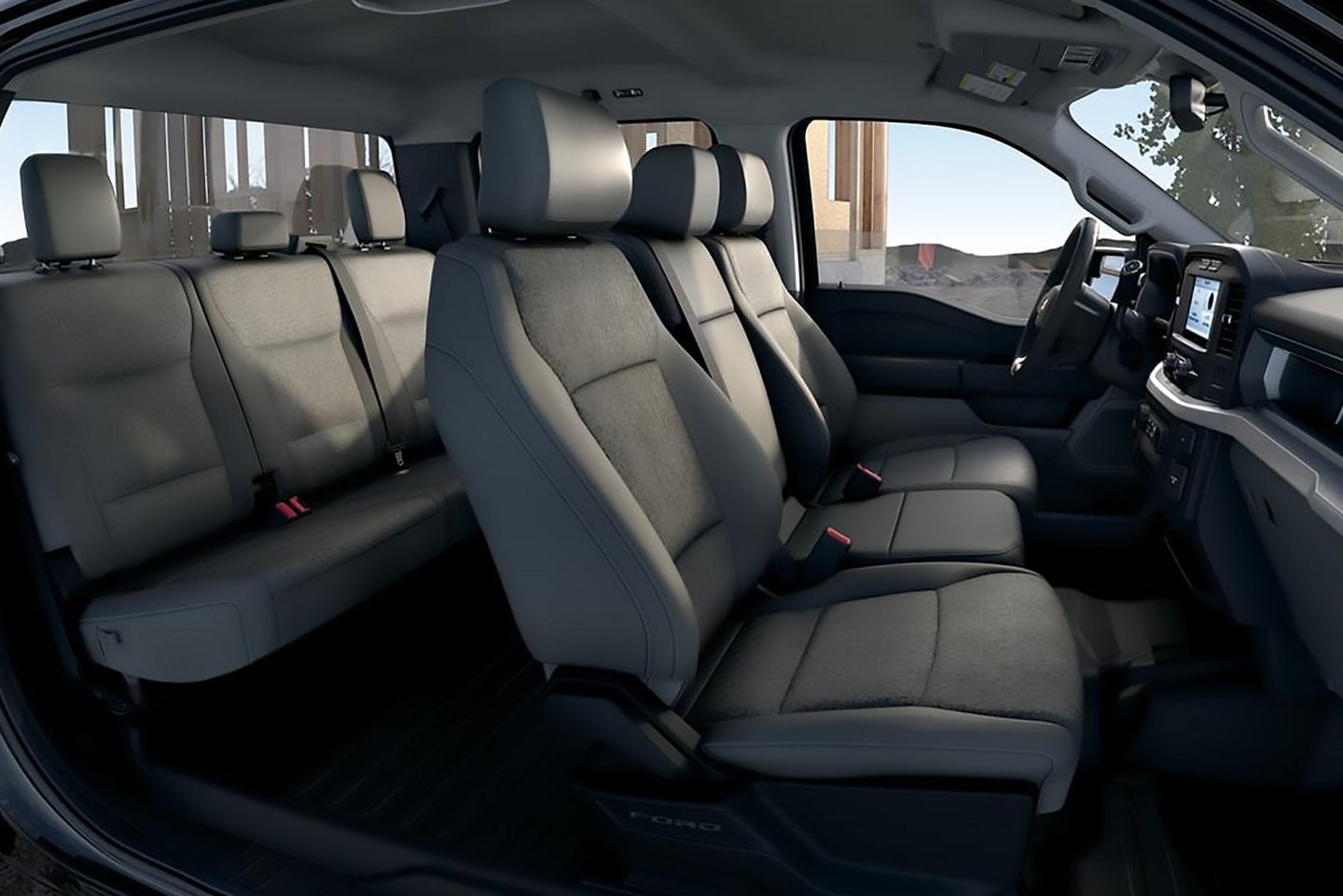 HANDLES ANY SIZE CREW - FROM TWO TO SIX
Whether you have a working crew or a crew of happy campers, there's a cab to fit your needs with spacious leg and head room to accommodate all sizes.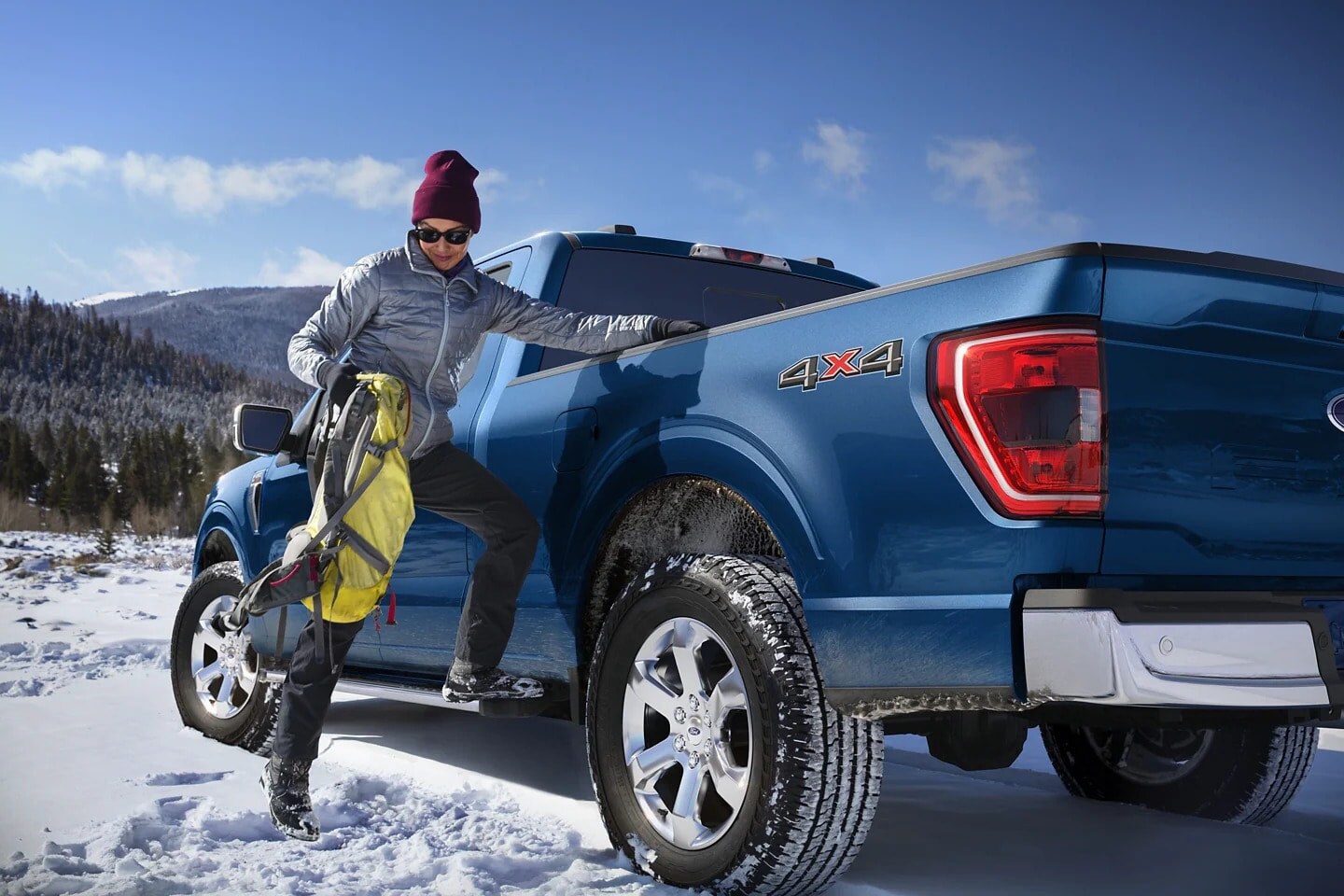 BOX OPTIONS TO FIT YOUR NEEDS
Often overlooked but equally important, choosing the right size truck bed can make all the difference when faced with important cargo carrying needs.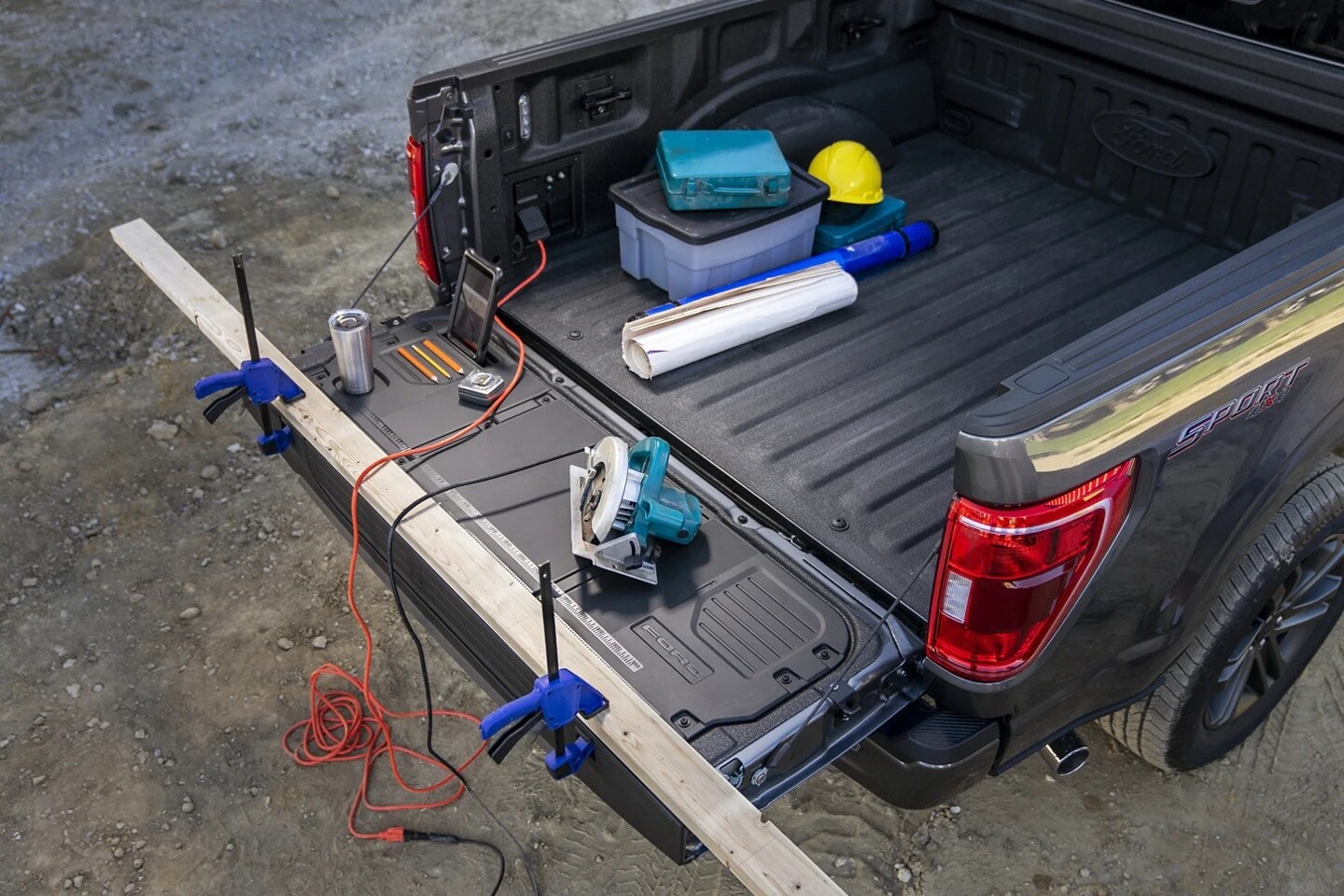 AMPED UP FOR WORK OR PLAY
With the available Pro Power Onboard*, you have the power you need to perform at your finest, even when you're away from an outlet. This incredible technology can pump out up to 7.2kW, letting you do more than keep the lights on. And with the versatile tailgate, you have a mobile worksurface wherever you roam.
*See Owner's Manual for important operating instructions.
FORD F-150® RAPTOR® TRUCKS RUN IN PACKS
Nothing stands up to the rugged capability of the F-150® Raptor® line of off-road trucks. For the serious off-roader who leaves no path unexplored, Raptor® and Raptor R™ deliver excitement and confidence in one aggressive-looking pickup.
Preproduction model with optional equipment shown. Available late 2022. Always consult the Raptor® supplement to the Owner's Manual before off-road driving, know your terrain and trail difficulty, and use appropriate safety gear. Ford is committed to the preservation of the environment and treading lightly.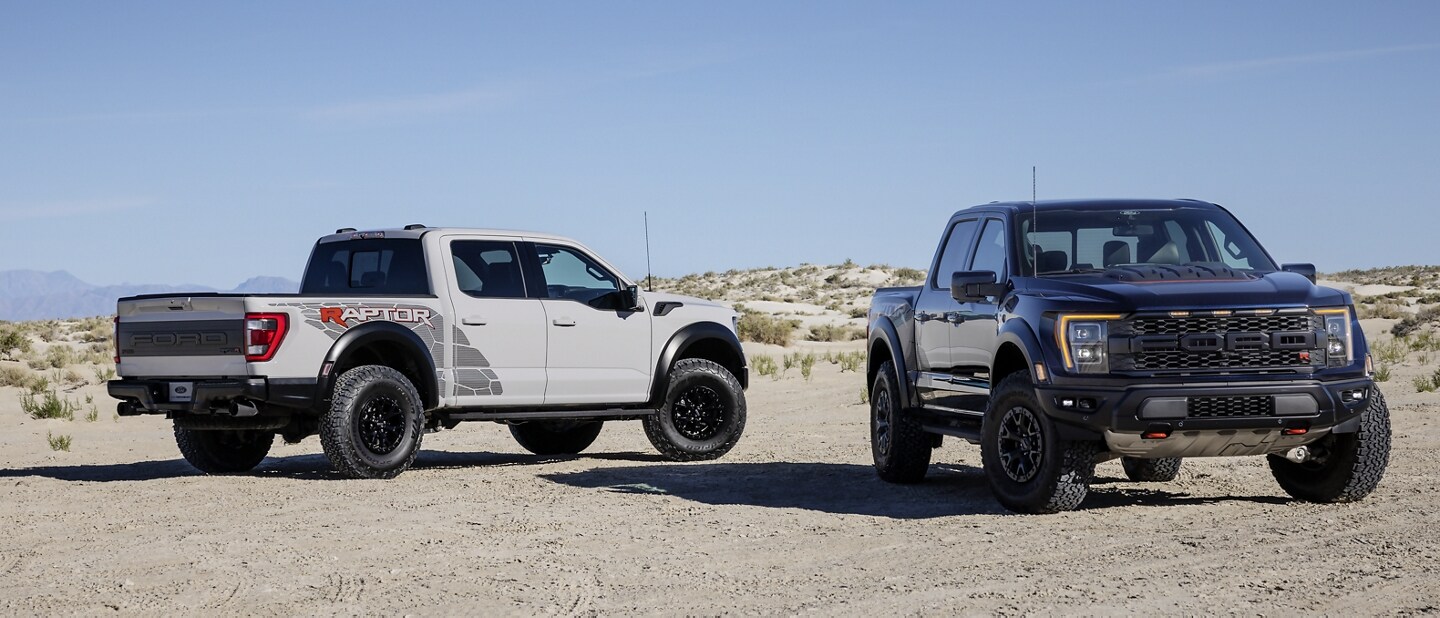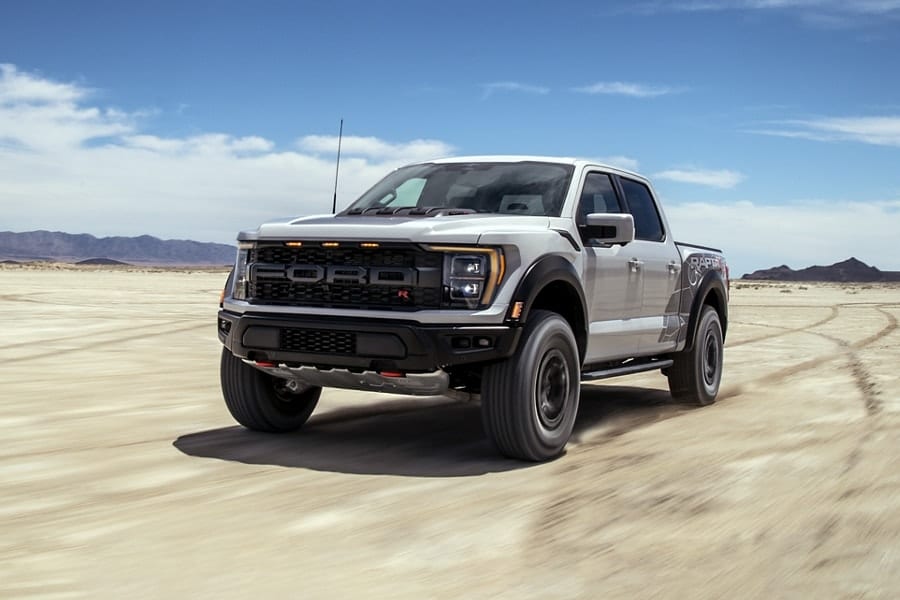 ALL-NEW FORD F-150® RAPTOR R™
As if one F-150® Raptor® wasn't enough to shock the off-roading market, the all-new 2023 Raptor R™ takes it to a whole new level. Monstrous supercharged horsepower and a rugged long-travel suspension featuring FOX Live Valve shocks deliver next-level performance capability.
Preproduction model with optional equipment shown. Professional driver on a closed course. Always consult the Raptor® supplement to the Owner's Manual before off-road driving, know your terrain and trail difficulty, and use appropriate safety gear. Available late 2022.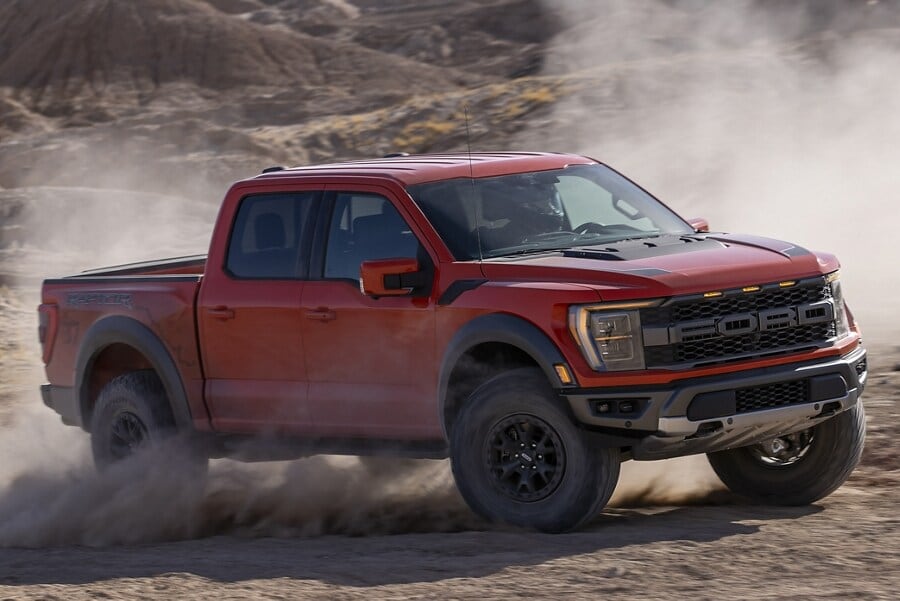 FORD F-150® RAPTOR:® HIGH-SPEED DESERT PREDATOR
The F-150® Raptor® doesn't always take the road less traveled, it prefers wide-open spaces where it can really let its capability shine. Give it room to play and Raptor® will show you what it can do.
Professional driver on a closed course. Always consult the Raptor® supplement to the Owner's Manual before off-road driving, know your terrain and trail difficulty, and use appropriate safety gear.
ELECTRIFY YOUR LIFE IN MORE WAYS THAN ONE
This may not be your typical all-electric vehicle, but it is very much a ruggedly capable all-electric Ford F-150® truck. The 2023 F-150® Lightning™ will send jolts of excitement coursing through your body when its nearly instant 775 lb.-ft of torque* presses you to the back of your seat. And when the lights go out at home, its built-in intelligent backup power automatically begins powering your home when connected to the 80-amp Ford Charging Station Pro. **
*Based on manufacturer testing using computer engineering simulations. Calculated via peak performance of the electric motor(s) at peak battery power. Your results may vary.
**When home is properly equipped and home transfer switch disconnects the home from the grid.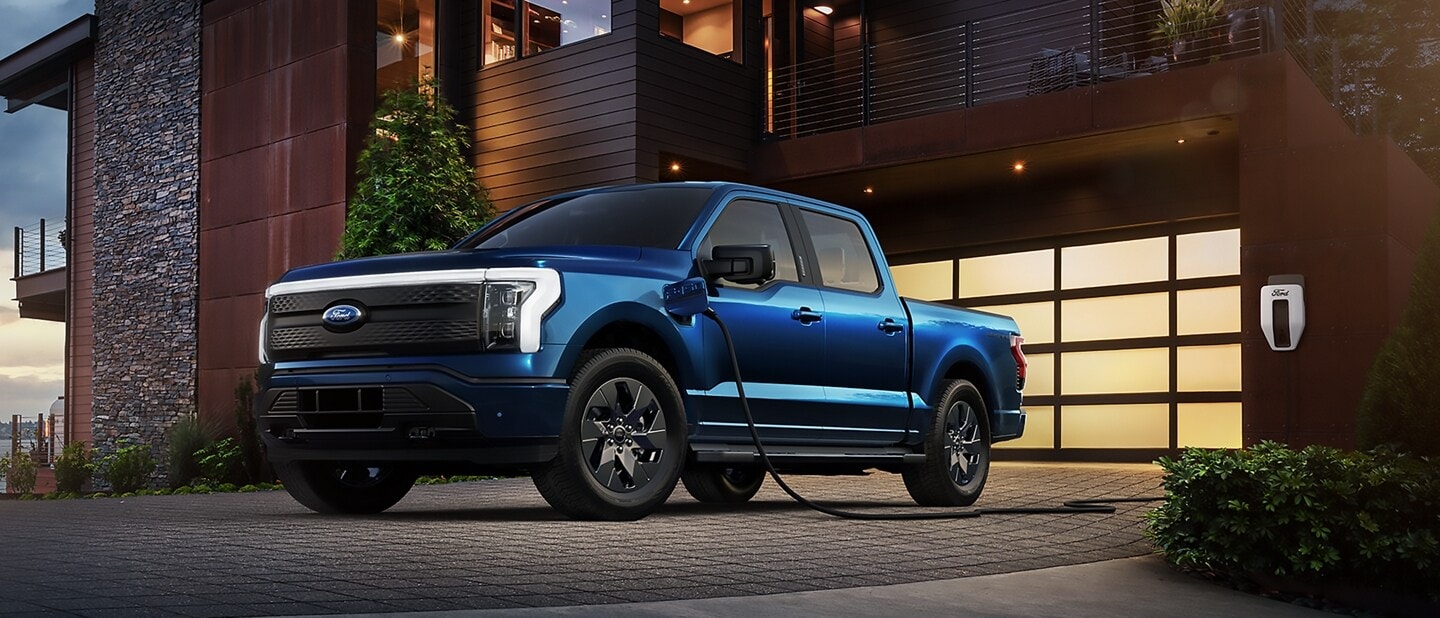 TOWING & PAYLOAD
Best in Class Towing Capabilities
There's a reason why the Ford F-150 is at home on the construction site and on the campground. With max towing available up to 14,000 pounds, you can pull anything from small construction vehicles to your bigger toys. No matter what you need to tow, you'll also have the most intelligent towing assistant technology to keep your gear safe and you feeling confident. Enjoy safe towing solutions like: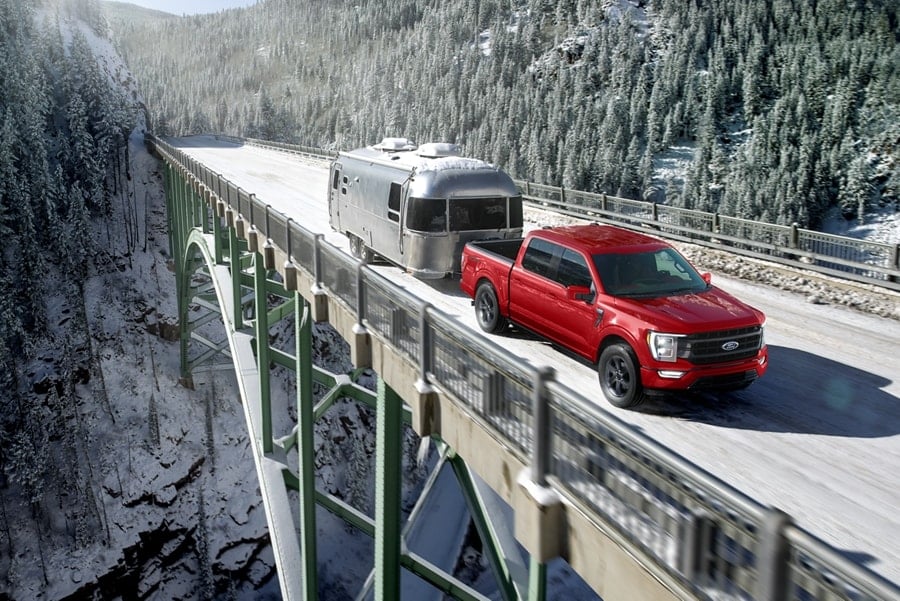 Smart Trailer Tow Connector
Lets you know the status of your trailer lights, turn indicators, and brake lights.
Dynamic Hitch Assist
Acts as your spotter to help you align your hitch.
Continuous Controlled Damping
Automatic dampening to provide a smooth ride by instantly adjusting shock absorbers to road conditions.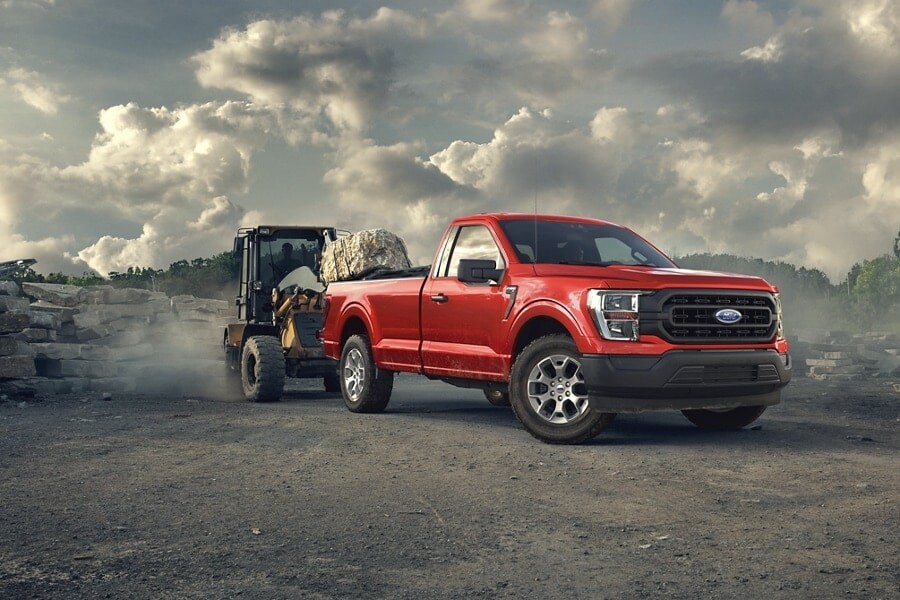 Smart Hitch
Helps you distribute the weight in your trailer by giving you critical information like trailer tongue weight and a correct distribution notification.
Onboard Scales
Takes the guessing out of payload weight and distribution by giving you an estimated weight and showing your load status as you add to your payload in real-time.
LED PROJECTOR WITH DYNAMIC BENDING HEADLAMPS
F-150® provides bright, efficient and long-lasting illumination. On the road, available LED projector headlamps with Dynamic Bending give you a clear view of the road, adjusting for clarity around curves and creating a wide beam to help you see off to the side.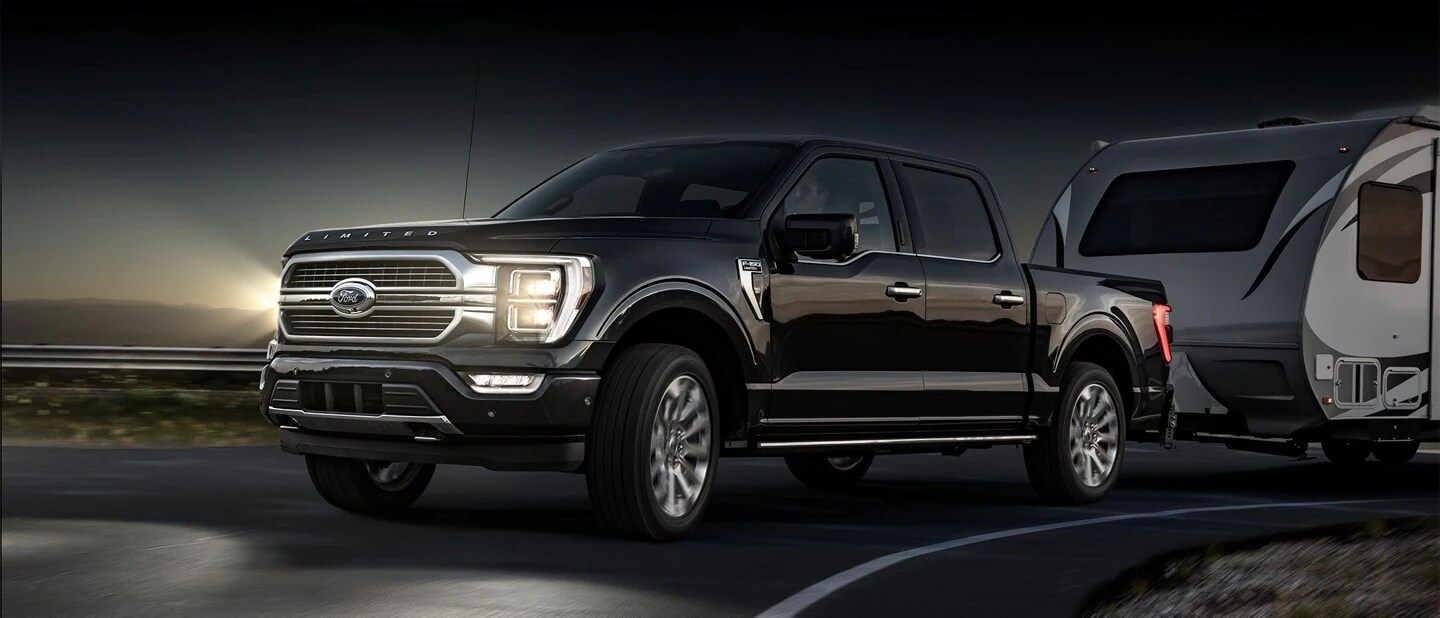 PACKAGE OPTIONS FOR YOUR TASTE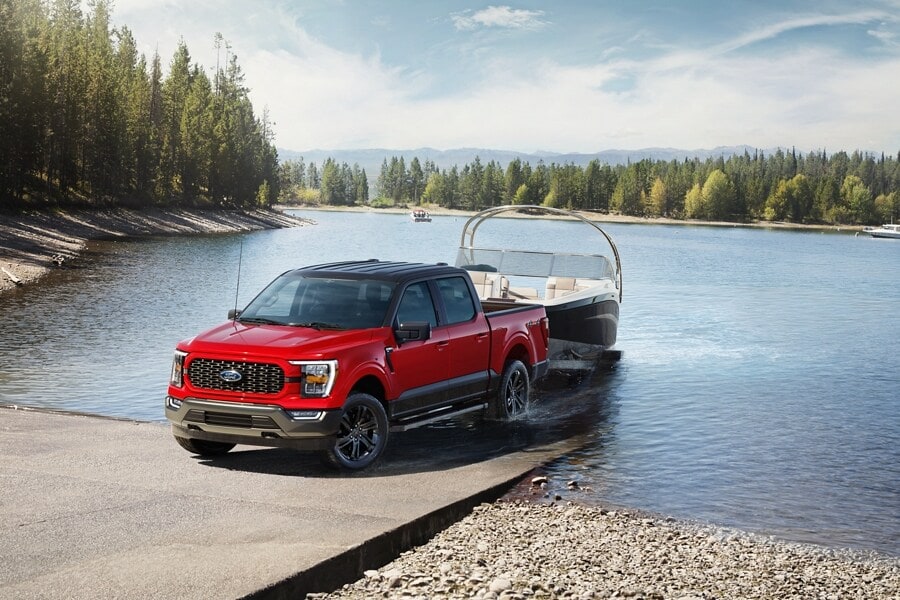 HERITAGE EDITION
Striking an ideal balance of classic and modern inspiration the Ford F-150® Heritage Edition pickup offers a retro-themed two-color/three panel paint scheme, interior and seating designs, embossed Heritage Edition logo on the center console and an animated "75 Years" logo on startup display screen.
Available on XLT model.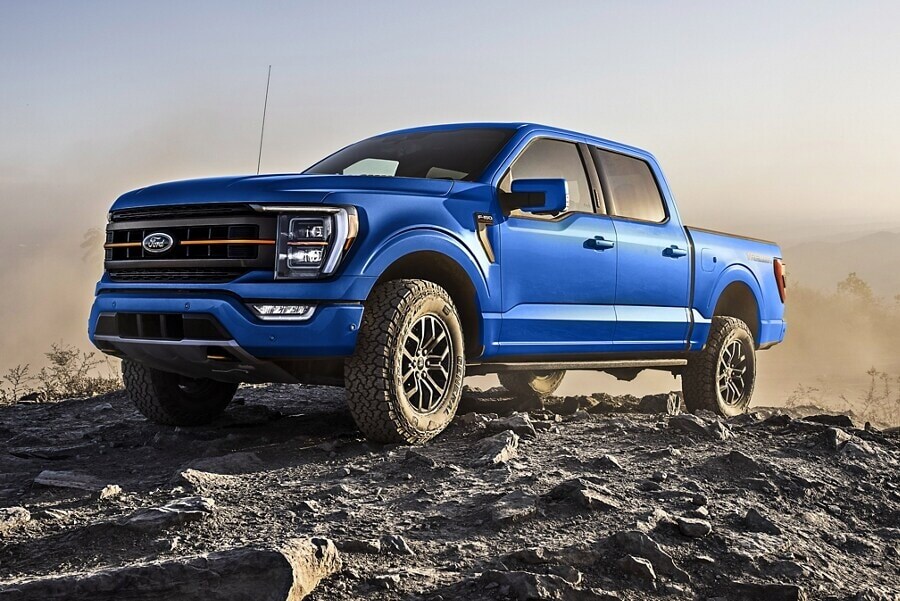 Conquer Your Adventures
The off-road enthusiast has plenty to choose from, but if you want to go all out, the Ford F-150 Tremor model is a beast designed with you in mind. A true off-roader, the F-150 Tremor has the essence of the legendary, high-powered F-150 Raptor and shares its four-wheel drive transfer case. With 33-inch all-terrain tires, beefed-up suspension, locking rear differential, and one pedal drive feature, it is ready for rock crawling, hill climbing, and muddin' right off the lot.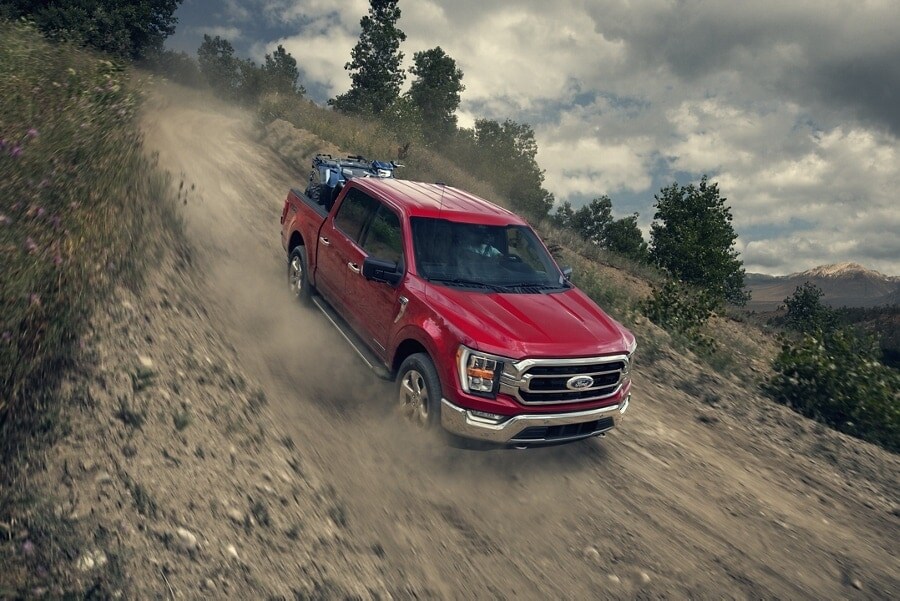 FX4 OFF-ROAD PACKAGE
If going off-road is an important part of your routine then the FX4 Off-Road Package has the gear to put you in the thick of things with off-road tuned front shock absorbers, montube rear shocks; fuel tank, transfer case and front differential skid plates, Hill Descent Control, Rock/Crawl drive mode, 4x4 FX4 Off-Road bodyside decal and the option of a 3.31* or 3.55** Electronic-Locking Rear Axle.
*Available with 5..0L V8 or 3.5L V6 EcoBoost.hreg engine.
**Available with 2.7L V6 EcoBoost engine. Available on XL High, XLT, LARIAT, King Ranch® and Platinum (4x4 only). Not available with 3.3L V6 PFDI engine. Always consult the Owner's Manual before off-road driving, know your terrain and trail difficulty, and use appropriate safety gear.
CUSTOMIZED FOR YOU
Dealer installed options help make the decision process quicker by pre-installing popular upfits for you.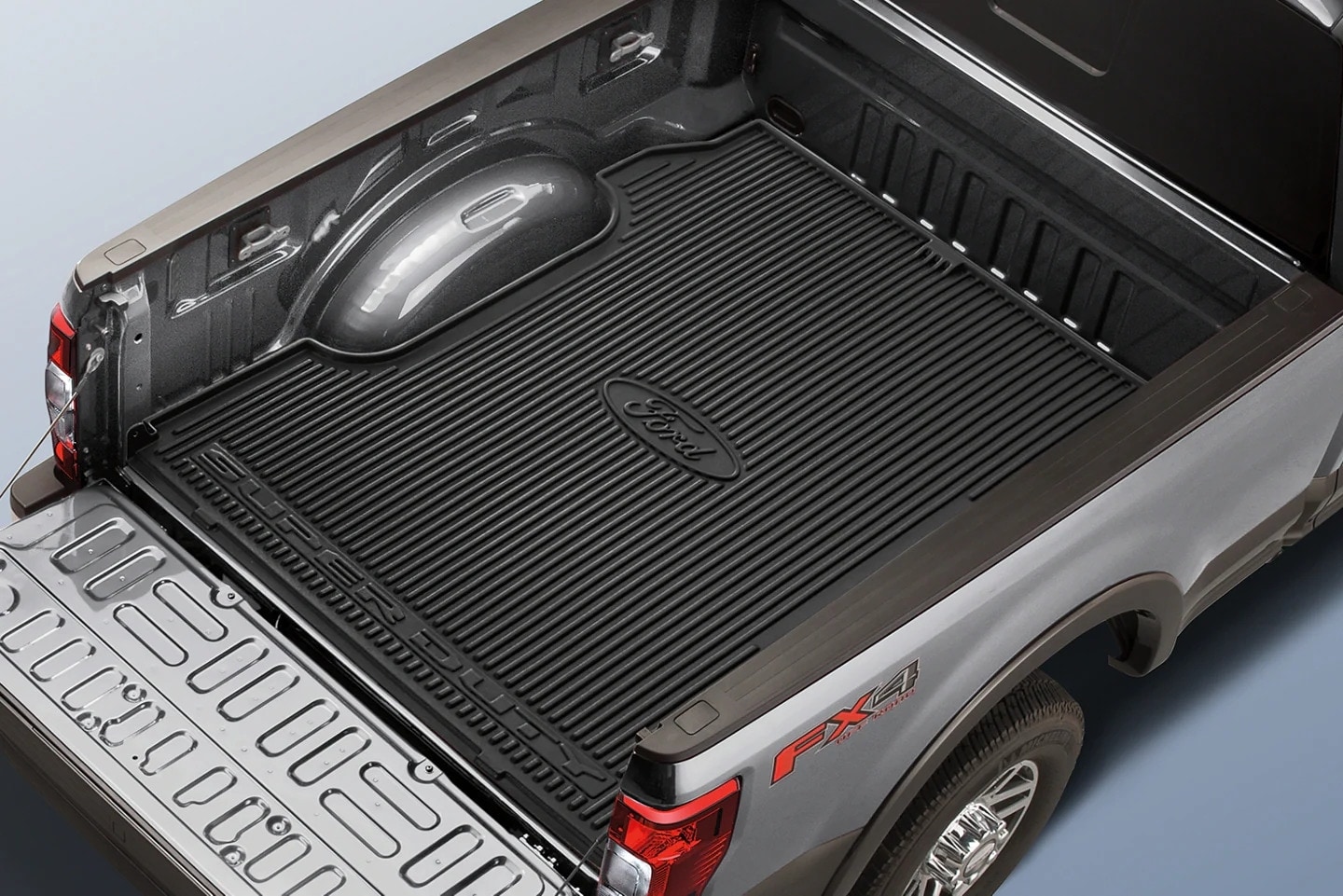 TRUCK BED TRAY
Keep your truck bed looking great with stylish bed trays. Molded to your truck beds specifications, they help prevent damage to your bed and the items you're hauling. Plus, limits items from sliding around the bed.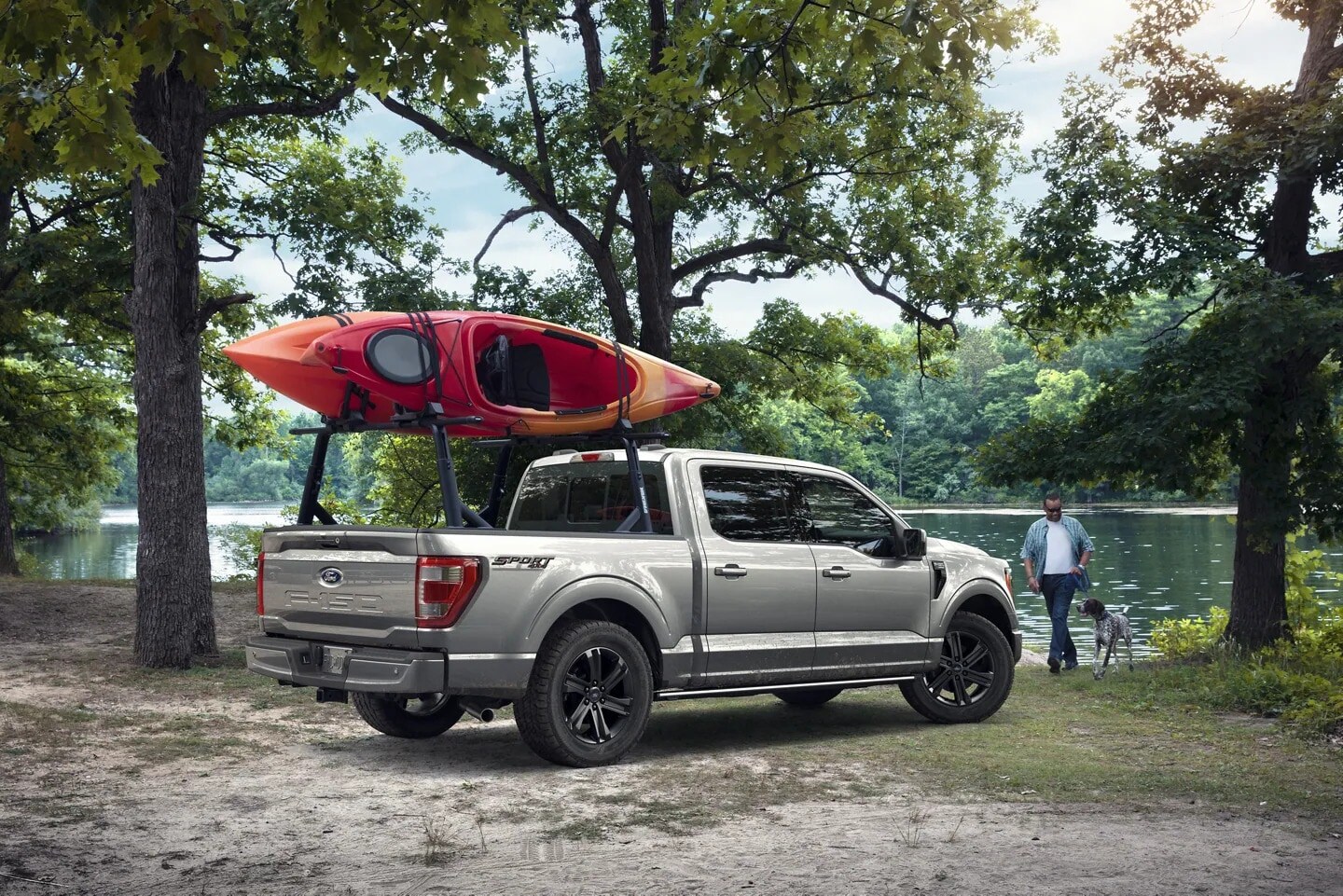 KAYAK RACKS
Carry up to two kayaks to your favorite getaway spot with a truck bed mounted carrier and let your cares float away.
Available Ford Accessories. Recreational equipment not included.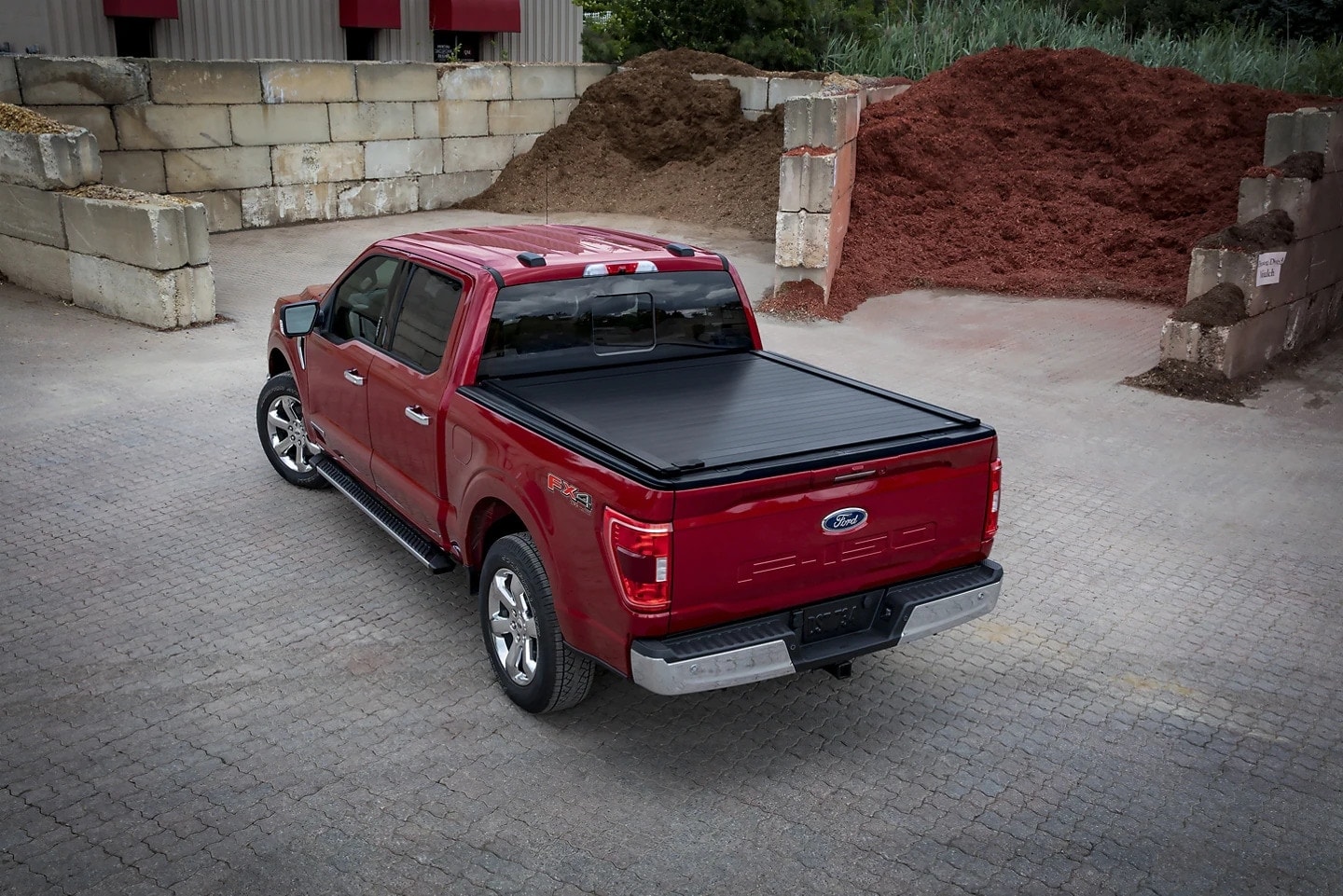 TONNEAU BOX COVERS
Protect and secure items in your bed from inclement weather and prying eyes. Available in three different types, retractable, soft folding and hard folding.
THE PICKUP WITH A LOT OF PICK UP
The 2023 F-150® pickup doesn't sit idle; it leads the power charge. It's a purpose-built giant of capability, tough as all get-out and eagerly waiting to tackle whatever terrain is put in front of it. Matched with impressive power ratings throughout the entire lineup, including the 3.5L PowerBoost™ Full Hybrid V6 engine, the F-150 pickup puts its legendary power up against those who dare to question it.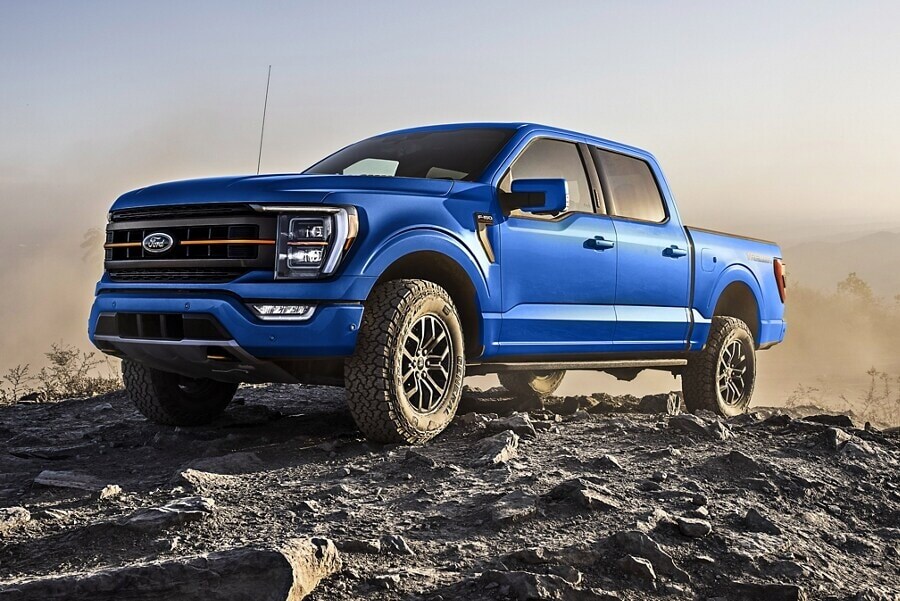 Powerful Engine Options
No matter what you need to get done, the F-150 is always ready. You can rely on the capability of the all-American workhorse and choose from the following engine options depending on how much power you need.
3.3-liter V-6 at 290 horsepower
5.0-liter V-8 at 400 horsepower
2.7 liter V-6 twin-turbocharged - 325 horsepower
3.5 liter V-6 twin-turbocharged - 400 horsepower
3.0 liter diesel V-6 - 250 horsepower
Hybrid Powertrain: 3.5-liter twin-turbocharged V-6 with 35kW electric motor - 400 horsepower
EV Powertrain: Double electric motor - 452 to 580 horsepower