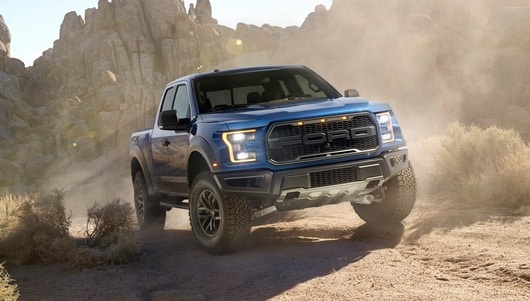 Just when you thought Ford trucks couldn't get any better, Ford created the next best 2017 Ford Raptor truck. It is nothing short of amazing. The 2017 Ford F-150 Raptor is incredible for a number of reasons but many are focusing on the powertrain. Equipped with a 10-speed automatic transmission and a 3.5-liter twin-turbocharged V-6 with 450 horsepower this year's Ford Raptor is so much faster than its predecessor. Ford replaced the 2014 version's V-8 engine with the V-6 because it is a much lighter engine. Lighter seems to be the theme for this truck as well as speed and handling, but we'll get to that later.  
The other reason the New 2017 Ford Raptor is making big noise is the 6 driving modes included that help you prepare to tackle whatever terrain is in front of you. The first mode option Normal, is used for daily trips, Sport is intended for the sharp turns through valleys, Weather is meant to tackle rainy and snowy weather, Mud/Sand is for those moments of mudslides and quicksand, Rock Crawl allows you to tackle mountains, and Baja (which is everyone's personal favorite) is intended for desert races at unspeakable speeds. The Baja mode, which is most loved by critics, can be switched on from the wheel console controls, will shift into 4x4 high automatically. With all this excitement, you're probably thinking the cab is noisier than ever, well think again, because it's the quietest it will get in there!
The other notable trend happening among the F-Series line is the significant amount of weight dropped on most of the models. The Ford Raptor is now a 5,500-pound truck with an innovative new set of suspension and handling capabilities which grant you that safe feeling when you're traveling at high speeds. Like it's siblings the Super Duty and the F-150, the Raptor has the all-aluminum body which helped it shed 500 pounds of weight. The Raptor was al fortunate enough to gain 3-inch Fox Racing shocks/ They are 44 percent bigger and add 0.8 and 1.9 inches of suspension to the Raptor's front and rear. You'll also experience better control thanks to the 9-stage bypass damping and a hydraulic bump. This will control any unnecessary heat and prevent you from bottoming out.
The Raptor is not going unnoticed but has won the 2017 10Best Trucks for the year. These trucks are selling hot and will continue for the time being. Don't miss out on the opportunity to own one! Rush down to Phil Long Ford of Motor City and learn how to test drive one of the most exciting trucks on the market!
Call or visit Phil Long Ford Motor City today, and we'll take you out for the test drive you are craving.