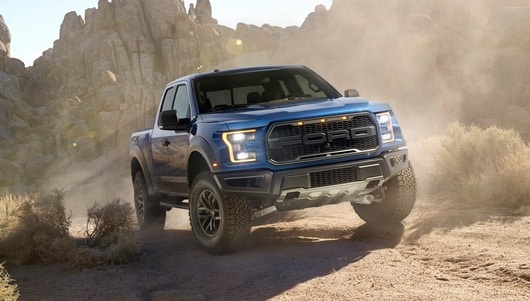 Ford makes improvements on its vehicles each year to ensure that they are built better, perform better, and look better. The 2017 Ford F-150 comes with many new and improved features that make it the best vehicle of its class. Ford will not disappoint you in the year 2017. Don't pass up the opportunity to drive the newest and best truck on the market!
The F-150 underwent multiple changes to bring you a stronger truck.  This pickup comes equipped with a 3.5-L EcoBoost Engine paired with a 10-speed transmission which significantly improves the acceleration and overall performance of the vehicle. Ford's previous model featured a 6-speed transmission.  Rather than a V8 with one turbo, this pickup features a V6 engine with twin turbos. This is because a twin turbo V6 is as powerful as a V8 with a turbo, however the V6 is a lot lighter. The 700-pound weight difference gives the new F-150 better handling, accelerating, breaking, and gas mileage.
The body of the new F-150 is now made of aluminum-alloy and is reinforced by high-strength steel body frame to assure safety for driver and passengers. The aluminum-alloy body of the vehicle is stronger and lighter than previous models. In fact, the body weighs up to 700 pounds lighter. This helps the vehicle with improved towing, fuel efficiency, control, breaking for the vehicle, and also makes the truck a safer vehicle.
The new SYNC® 3 system is improved from previous models and offers easy to use software. Ford gives you a larger 8-inch display with many improved features. SYNC® now comes with a capacitive touch screen instead of a resistive touch screen. This means users don't have to use force when pressing on the touch screen. Capacitive touch screen uses electrical properties of the human body to sense where the person touched on the screen. This gives you an easy to touch screen with immediate help with responses. You can play music, connect your phone via Apple CarPlay or Android Auto, and use voice recognition controls among many other features with Sync.
As cars change from generation to generation, it is expected for them to improve. Ford has high standards so they can bring its customers an all new truck that exceeds all expectations. From the body and the performance to the touch screen system and comfortable interior, Ford has improved every part of the truck in order to make it the best of its class!
To learn more about our selection of the new Ford F-150, check out our online inventory above and visit Phil Long Ford at Motor City in Colorado Springs!